Sample projects of FoodBerlin members
The range of topics covered by FoodBerlin's research groups covers the entire food value chain. The following aspects are of particular importance: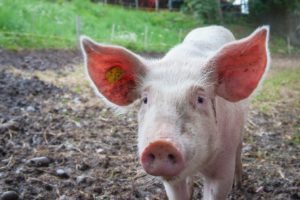 The research contributes to creating conditions for the appropriate husbandry of food-producing animals, focusing on sustainability and animal welfare. As an essential aspect, we work on the role of nutrition in the development of young animals. In particular, increasing evidence shows that events during intrauterine and early postnatal life induce complex physiological and immunological response patterns that influence growth, metabolism, and short- and long-term health.
Beyond the direct effects of specific foods or feeds and nutrient profiles, there is increasing evidence that the gut microbiota is paramount as a driving force in maintaining well-being and health, both in the neonatal period and in old age. Therefore, a systematic, integrative approach is needed to elucidate the effects of nutritional and microbial factors in young and older individuals. Pigs are an important domestic animal worldwide and are also increasingly viewed as an important model animal for humans. Thus, developmental interactions between sow and piglet can provide essential information for the target species and serve as an attractive model for mother-child interactions in humans.
When breeding farm animals, one must take care to ensure that not only performance parameters are considered, and animal welfare has to be taken into account from the outset. Targeted breeding with the aid of genetic markers can ensure that animals are not one-sidedly specialized, e.g. for meat production or egg production. The aim is to achieve breeds that are stable in health and versatile in use. Optimal husbandry conditions must also contribute to animal welfare.
Contact:
Prof. Dr. Jürgen Zentek
Institut für Tierernährung, FU Berlin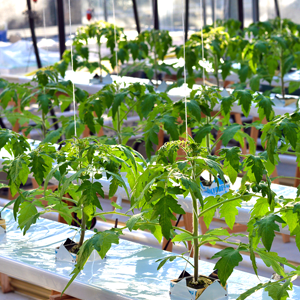 Intensive Agricultural Production Systems
This area focuses on forms of production with a high added value per unit area and highly controlled production conditions. Technical systems are coupled to make food and feed production sustainable and resilient to environmental influences and technical disturbances. At the same time they are adapted to the respective ecological and social conditions. An example is the combination of fish farming and vegetable production in closed cycles ("aquaponics").
The systems under development are suitable for urban and peri-urban areas or industrial areas with good opportunities to connect with material cycles (water, nutrients, CO2 sinks), but also for rural areas or extreme locations such as desert areas. We capture and optimize material cycles through sensors, modeling of processes, and targeted control. This approach allows to achieve the highest value-added densities. In addition, food can be produced in close proximity to the consumer in a resource-conserving manner and with only minimal CO2 emissions.
The consortium pursues the combination of insect breeding, fish farming, and plant production, in which food for human consumption and nutrients for the next higher trophic level is produced at each stage. Production takes place in standardized, stackable, and intercommunicating modules that correspond in their dimensions to standardized ISO containers (www.cubescircle.de). Groups of the consortium are also working on the crucial areas of governance and social acceptance of modern production methods. In this context, valuation, market mechanisms, and acceptance of products are analyzed in cooperation with practice partners and consumers.
Available expertise (see also www.cubescircle.de): Ion sensitive sensors, aquaponic production systems, insect breeding, crop production under controlled and closed conditions, chemical ecology, "Controlled Ecological Life Support Systems", post-harvest quality, volatile energy systems.
Contact:
Prof. Dr. Christian Ulrich
Department of Urban Ecophysiology of Plants, HU Berlin
Prof. Dr. Uwe Schmidt
Department of Biosystems Engineering, HU Berlin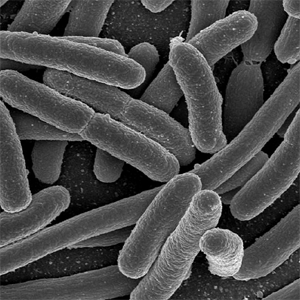 Ensuring food safety is an essential task of consumer health protection. Following the "One Health" principle requires intensive cooperation between agricultural sciences, veterinary medicine, food technology, and human medicine. The aim is to ensure that safe foodstuffs placed on the market that do not pose any health risks to the consumer.
As food commodity flows become increasingly global and complex, international cooperation in food safety is an important aspect. Therefore, building methods and capacities in science and practice, monitoring, enforcement, and advisory services on the ground, has high priority in developing and emerging countries.
The main focus of research in FoodBerlin's "Food Safety" department is the prevention and control of food-associated pathogens transmitted from animals to humans. Such zoonotic pathogens occur among viruses as well as bacteria and parasites. In addition, preventing the transmission of antimicrobial resistance through direct contact with animals or with food, is also a significant area of research. Among others, the new Veterinary Center for Resistance Research represents a unique infrastructure precisely tailored to these issues.
The focus of this research area is on the following:
entry of zoonotic microorganisms into the food chain,
mechanisms of survival of zoonotic microorganisms in the food chain and resulting minimization strategies
(molecular) epidemiological studies to determine the distribution and transmission of zoonotic microorganisms in the environment and in the food chain
the molecular basis of resistance development of pathogens
development of diagnostic methods, vaccines and other procedures to reduce the emergence of resistance
transfer of these new developments into practice
Available expertise: food hygiene, animal hygiene, environmental hygiene, food microbiology, microbial stress response, molecular epidemiology of zoonotic pathogens, disinfectants, antibiotic resistant microorganisms.
Contact:
Prof. Dr. Thomas Alter
Institute for Food Safety and Hygiene, FU Berlin
Prof. Dr. Uwe Rösler
Institute for Animal and Environmental Hygiene, FU Berlin
Prof. Dr. Stefan Schwarz
Institute for Microbiology and Animal Diseases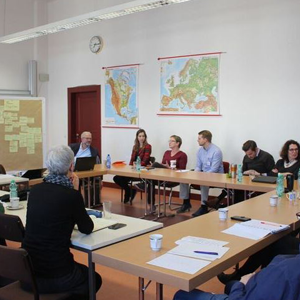 Sustainable and Resilient Food Systems in Politics and Society
To make food systems more sustainable and resilient, food production, processing, marketing, and consumption must be thought together, and the systemic interrelationships must be consistently taken into account. Cornerstones of this approach are the production of healthy and diverse foods with sustainable use of natural resources, consideration of animal welfare, climate protection and preservation of biological diversity, social cohesion, and democracy, as well as transparency and justice. Meeting these demands while remaining competitive within the EU and in globally integrated markets is a challenge. In addition, the impact of nutrition on health and the societal costs of flawed dietary patterns must be considered.
Based on knowledge about the sustainability of food systems and the interplay between agricultural and food policies, science can help to reflect societal priorities, develop governance concepts, and structure the discussion between society and the agricultural sector. Within FoodBerlin we perform interdisciplinary research on the following topics:
Communication and dialogue
Societal demands for sustainable food systems must be formulated and confronted with the realities of current agricultural systems. As can be seen from the example of the social debate on livestock farming, an intensive dialogue between society, the agrarian profession, and other sector actors is necessary to develop socially acceptable but also economically and socially viable future paths for the farming sector.
Framework conditions for sustainable food systems
The realization of societal sustainability claims and ecological sustainability requirements presupposes a target-oriented operationalization and the development of steering and financing strategies. This is a key challenge because the dominant organizational forms and institutions of the European and international agri-food sector do not allow the financing of sustainability measures via the market for agricultural products.
Available expertise: tensions between society and agriculture, animal welfare, EU agricultural policy, international agricultural trade, multifunctional agriculture, agricultural policy actors, development of simulation models for economic and rural development, discourse analysis, food governance, social cohesion and nutrition, bioeconomy, transformation.
Contact:
Prof. Dr. Peter H. Feindt
Agricultural and Food Policy, HU Berlin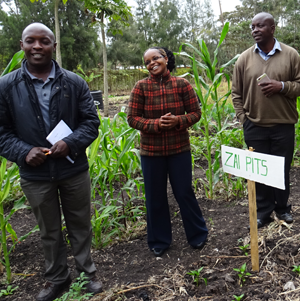 Sustainable Value Chains for
Food Security in Africa
In sub-Saharan Africa, the number of people suffering from hunger is rising due to conflicts and armed conflicts. At the same time, the population is growing, especially in places where many people are already starving today.
In addition to the 'energetic' supply of food, a balanced and healthy diet plays more role today than ever. A deficient supply of vital minerals and vitamins, as well as obesity and related secondary diseases are rising. This development is taking place against the backdrop of a diminishing production area, declining water supplies, and increasing periods of drought. To meet these challenges, value chains must be geared mainly to disadvantaged population groups.
In this sense, in addition to a significant increase in the production of plant and animal foods, post-harvest handling, processing, transport, and marketing must also be significantly improved to reduce losses and preserve the value-giving ingredients. Furthermore, regionally appropriate strategies must be developed to optimize value chains regarding food security, environmental sustainability, and healthy diets. In doing so, one must take consumer's food preferences into account, and knowledge about the composition and preparation of healthy food must be improved. The research work of the "FoodAfrica" research area focuses on countries in sub-Saharan Africa.
Expertise available: value chain management, sustainable agricultural production, post-harvest handling, nutritional sciences, governance.
Contact:
Prof. Dr. Dagmar Mithöfer
Management of Agricultural Value Chains, HU Berlin
Prof. Dr. Susanne Huyskens-Keil
Urban Plant Ecophysiology, HU Berlin